10 Apr

Rosemary's story

Rosemary first came to us in 2016 under recommendation from various people. She had lost a few teeth over the years and had an upper removable partial denture. Her upper front crowns were supported by posts and were all starting to fail.
Unfortunately, we had to remove all her remaining upper teeth. Rosemary decided that she didn't want a removable denture anymore and would prefer a permanent solution that she didn't have to take out for cleaning. We decided to place some dental implants in order to support a full porcelain bridge of teeth.
The bridge is extremely stable, has no "palate" and can only be removed by a dentist.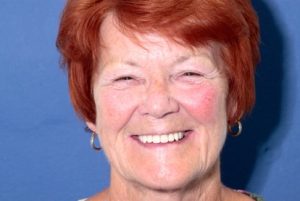 We asked Rosemary what difference the treatment has made to her life;
"I am delighted with them plus the fact there is no chance of them falling out. They certainly give me more confidence in terms of the ability to eat most foods without concern and I now have teeth to be proud of."
We think she looks younger now than she did before!
If you would like to know more about what dental implants can do for you, please call us on 01325 333336 to book your consultation.
You can also email us on msgdental@hotmail.com, visit our Facebook page, or visit our website www.msgdental.co.uk to request an appointment.