21 Sep

Claire's fundraising story

One of our longstanding patients, Claire DeVere Whiteway Wilkinson, has taken on the Alps Challenge this month in aid of Macmillan Cancer Support. Here, Claire tells us what inspired her to take on this epic challenge:

I have worked in and around MSG for a number of years. In 2017, I joined MSG's Slimming World Group, which meets on Mondays at MSG Cricket Club. My intention, unsurprisingly, was to lose weight, and I did that successfully. However, I gained so much more along the way including some amazing friends whom I would never have met if it hadn't been for SW.

In October 2017, my SW buddies and I held a fundraising event in aid of the Holistic Care Centre at James Cook Hospital because our then SW Consultant had been diagnosed with cancer, and we wanted to do something to acknowledge the amazing care she had been given during her time at James Cook. This was especially close to my heart as, 8 years ago, my husband had been an in-patient at the same hospital after being diagnosed with bladder cancer. He came through a truly horrendous time, including many months of complications, and I remain so grateful to the staff for taking care of him throughout that time. Thankfully for us, my husband came through and has now been cancer free for 8 years, but I have many other family members who weren't so fortunate.

Together, we raised £1,150 for the Holistic Care Centre, and 4 of us (myself, Myron Clarke, Katie McMain and Julie Mathieson) had the honour and privilege of attending the Centre a couple of week ago, when a star was placed on their fundraising wall to commemorate our efforts. That was a really special evening, shared with some really special friends.
The success of that fundraising event spurred me on to do even more. This time, I wanted a personal challenge – something that would allow me to raise funds for another cancer charity to help others going through the awful experience that comes with a cancer diagnosis, but that also reflected the personal health journey I'd been on with Slimming World over the previous year. So I signed up to the Alps challenge!
After signing up for this challenge, I began training hard and it became clear that I'd need to make some changes. At the time, I had very long hair, and it simply didn't work for me when hiking. Rather than just have it cut off, I decided to donate 12 inches of hair to the Little Princess Trust, which makes wigs for children who have lost their own hair for whatever reason, including cancer.
The Alps challenge involved me hiking up the mountains over a three day period (we walked the height of the National 3 peaks
together for three consecutive). I felt well prepared for the expedition, thanks to the all the training i'd done, during which I've met an organisation called Activate Now, which encourages people to "Live Life, Love Outdoors". I'm a volunteer for them now, and am looking forward to a really bright future within their fantastic organisation.
I really am Living Life, and Loving Outdoors. I have a lot to be thankful for x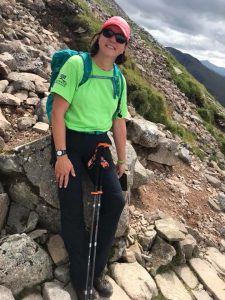 Claire's fundraising currently sits at £2,409. You can donate to her just giving page if you feel inspired by her story. You can also join her at her weekly Activate Walkers group, which runs alternately on Wednesdays and Thursdays around MSG and Darlington. Check out her Facebook page "Activate walkers" for further details.