31 Jul

Air Polishing – Gentle Solution for Stain Removal
A Gentle Cosmetic Dental Solution for Stain Removal
A Brief History of Air Polishing
Air Polishing was originally developed as a new form of dental technology by Dr Robert Black, as far back as 1945. Not without its problems, Black's technology was developed to become the foundation of the procedure and was finally marketed in the mid 1970's, quickly becoming a popular stain removal treatment used by dental hygienists.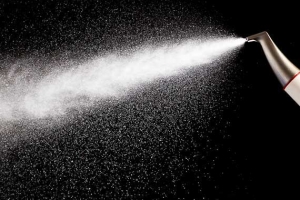 What exactly is Air Polishing?
Air Polishing is a dental hygienist treatment that quickly and effectively removes unwanted stains on the front and back of teeth.
The procedure utilises a fine jet of compressed air, water and fine powder particles to gently and completely remove staining caused by tea, coffee, red wine and tobacco, as well as staining caused by some mouthwashes.
Why use Air Polishing?
Air Polishing has many advantages, none more so than the fact that it is a gentle procedure that greatly reduces discomfort to those suffering from sensitive teeth.
Our Principal Dental Surgeon, Dr Chris Burton BDS, outlines the advantages of Air Polishing compared to other traditional methods of dental polishing:
Removes up to 100% of dental plaque thereby helping to prevent decay, gingivitis and gum disease
Can be used on dental implants
Far more effective than a traditional polish
No heat generated by the procedure
No contact with the teeth, or pressure against the teeth
Additionally Air Polishing is a much more gentle process of stain removal and leaves patients with an evenly smooth surface across their teeth.
The Results
Air Polishing has proven results to remove the toughest stains caused by day to day drinking and smoking.

For more information on Air Polishing or any other cosmetic dental treatments, please call us on 01325 333336 or send us your enquiry online.

Air polishing is carried out by a professional hygienist, and is one of our complimentary treatments available to all Care Plan patients. Please note the treatment is not available on the NHS but can be paid for privately.